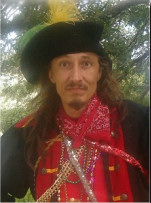 Captain Red
The highly sought after Captain Red is considered a favorite entertainer by many.  His high-energy birthday parties have pleased children and adults alike.
Captain Red is called on to provide "in character" Pirate Fun for a variety of events such as church and school functions, grand openings, neighborhood parties, birthday parties and much more.
Captain Red the Pirate has been entertaining the young, and young at heart, in Florida for over two decades. He livens up any event, whether it be a corporate function or a family gathering with comedy, facepainting, magic and balloon sculpting.
The Many Faces Of Bill Franks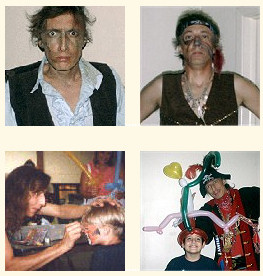 From a Halloween Ghoul to a Cowboy, Bill Franks, has been in the entertainment business for over 23 years.
His alter ego is the easily recognized Captain Red the Pirate. He is a well-known entertainer in Florida for his comedy, magic, creative facepainting, and balloon twisting – and of course his treasure chest hunts.
He radiates a "high energy" spirit of fun when entertaining, and gets requests for appearances at various events.Cow
Book Captain Red for Your Next Event
Schedule Captain Red for your upcoming Birthday Party or Event. Call: